Dividend Growth
Our focus is Portfolio Managers who subscribe to a dividend growth philosophy. They look for companies with predictable earnings. Often these businesses have "economic moats" around them so that it is difficult to replicate their market share and success. A solid management team who are good allocators of capital will decide what proportion of these predictable earnings are used to increase dividends, reinvest into growing the company revenue or buy-back shares to divide the dividends amongst fewer shareholders.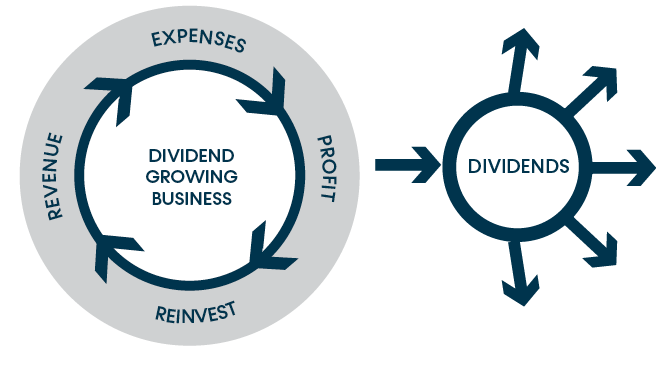 Diversification
A properly diversified portfolio will use these dividend growing companies from a variety of sectors, company sizes and geography.
Asset Allocation
An appropriate allocation of bonds or alternative investments such as real estate delivers consistent cash flow with less volatility. This provides a well diversified portfolio to grow your wealth.
In this example of RBC Royal Bank, the share price fluctuates the most. The more consistent the earnings, the more predictable the dividend and growth regardless of the share price. It is this growing dividend that forces the share price to eventually rise as investors are willing to pay more for a share that produces growing cash flow.
Watch An Introduction to Dividend Investing video.
Watch The Magic of Yield on Cost video.
Watch the Active vs. Passive Investing video.
Pooled Investments
Proper diversification is easier to achieve in smaller accounts by using pooled investments such as mutual funds and/or Exchange Traded Funds (ETFs).
Portfolio Manager Referrals
Frequently we refer clients to Portfolio Managers or Private Client Money Managers. After developing your personalized Financial Plan we can recommend the most appropriate Manager to suit your needs. We then become your investment advocate and help you hold the Portfolio Manager accountable. Although managed by these Private Client Money Managers, your assets are held by a custodian, such as Credential Securities Inc. who safeguards your investments.
Watch The Portfolio Manager Solution video.
Watch The Advantages of Professional Advice video.
We are a fee for service Wealth Management firm. As such, your fee is a percentage of the assets we help manage for you. Our interests are aligned because the better your performance, the more our remuneration. You are charged a percentage of your investible assets on a decreasing scale. The larger the account; the lower the fee.
All fees are transparent, fully-disclosed and reported in an Annual Summary of Fees. Investment management fees in a non-registered account can be tax-deductible.
Your fee includes your comprehensive financial planning, ongoing advocacy with Portfolio Managers and our coordination with legal, tax and actuarial advisers.